The Wellness Trinity
Weekly Podcast
Learn from top experts around the world about natural solutions for our 21st century health & fitness epidemic.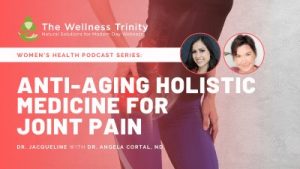 Dr. Angela Cortal is a Naturopathic Physician who helps women get to the bottom of chronic joint pain so they can heal and live life
Watch More »
Keep In Touch
Let me give you the latest, most inspiring health tools available.
THE STATEMENTS AND PRODUCTS ON THIS WEBSITE ARE NOT INTENDED TO DIAGNOSE, TREAT, MITIGATE, CURE OR PREVENT ANY DISEASE.
Information on this website is provided for informational purposes and is not meant to substitute for the advice provided by your own physician or other medical professional. You should not use the information contained herein for diagnosing or treating a health problem or disease, or prescribing any medication. You should read all product packaging carefully. If you have or suspect that you have a medical problem, promptly contact your health care provider. Pregnant and lactating women should always consult their health care professional before using any dietary supplement. The information contained on this website was derived from medical, nutritional, and media publication.